ABOUT
🖍 Sage is an autodidact artist, who works and lives in the United States. His grandmother, the artist Susan Walter, urged him to draw when he was a child.
Inspired by the surrealist movement, Sage focused his work on the notion of contrast : visual and technique. He produces poetic or disturbing associations, which share different emotions.
Sage Barnes has a very personal style, which is made of assemblage, urban art, or realist techniques. The public cannot see the face of his portraits, hidden by big artificial flowers.
At only 21, Sage is a very promising artist, especially for the younger generation, as he explained in a recent interview : « The younger generation associates most art with only what they've seen in their text books. I want them to connect with art like they connect with other creative forms like music. »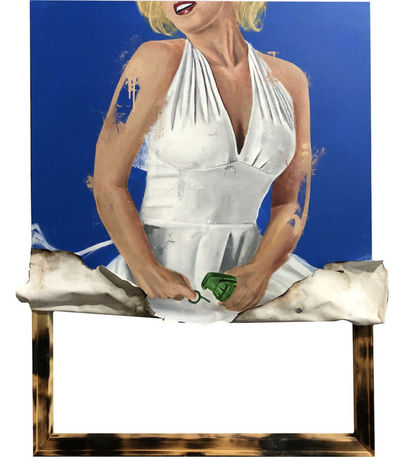 A PROPOS
🖍 Sage est un artiste autodidacte qui vit et travaille aux États-Unis. Il s'intéresse à l'art grâce à sa grand-mère, l'artiste Susan Walter, qui le pousse à dessiner dès son plus jeune âge.
Inspiré par le mouvement surréaliste des années 1930, Sage s'attache à exploiter le principe du contraste, d'un point de vue visuel et technique. De son imagination naissent des associations dérangeantes ou poétiques, qui communiquent différentes émotions.
Sage Barnes a su se doter d'un style personnel qui s'appuie aussi bien sur le collage, l'art urbain, que sur le traitement réaliste des personnages. Ainsi, il donne à voir au spectateur des autoportraits où les visages sont invisibles, cachés par d'épais bouquets de fleurs artificielles. Les tiges se déploient sur le béton, et des coulures achèvent souvent les portraits.
Sage Barnes, âgé de seulement 21 ans, s'affirme comme un artiste à suivre de près. En effet, il est doté de grandes ambitions, pour le public issu de la jeune génération en particulier, comme il l'explique dans une interview récente : « Les jeunes d'aujourd'hui associent l'art avec ce qu'ils voient dans les manuels. Je voudrais qu'ils puissent se connecter avec l'art comme ils se connectent avec d'autres formes de créativité, comme la musique. »