À PROPOS
🖍 "Remplacer la bombe aérosol par la brique Lego voilà mon challenge.
Enfant, j'étais fasciné par la petite brique colorée aux combinaisons multiples, me donnant l'impression de pouvoir construire le monde, mon monde. Avec l'adolescence, la brique fût sagement rangée au grenier, me permettant ainsi de découvrir d'autres médiums tels que la bombe de peinture, un nouvel univers s'offrait alors à moi. Le graffiti devint un jeu, tout comme l'avait été le Lego. Le jeu du chat et de la souris bravant l'interdit; un jeu de création et d'harmonie quand il s'exprime sur fresque mais se posait l'épineuse question du support de création: Peut-on retranscrire un graffiti sur toile? C'est au hasard de mes réflexions que je suis retombé sur les briques de mon enfance et l'envie de les faire vivre autrement.

La brique a tout du graffiti: des couleurs acidulées comme celles des bombes que j'affectionne, une gamme de taille impressionnante à l'image des caps qui serviront de pinceaux à mes traits d'aérosol... Et une capacité de création quasi illimitée...
De mes premiers essais en 3 dimensions à mes créations de toiles Lego, je cherche à rendre au graffiti son côté ludique.

Graffiti is a Child play... "
LENZ mise en texte Jean-Baptiste GEFFROY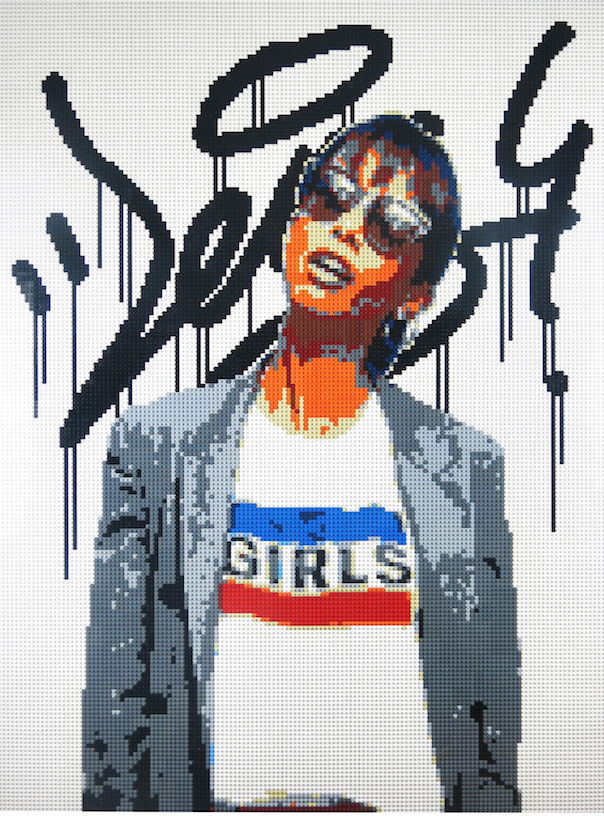 ABOUT
🖍"Replace the aerosol can with the Lego brick is my challenge."
As a child, I was fascinated by the colorful little brick with multiple combinations, giving me the impression of being able to build the world, my world. With adolescence, the brick was wisely stored in the attic, allowing me to discover other mediums such as the spray paint, a new universe was then offered to me. Graffiti became a game, just as the Lego had been.
The game of cat and mouse braving the forbidden; a play of creation and harmony when he expresses himself on a fresco, but the thorny question of the creative medium: Can we transcribe a graffiti on canvas? It is by chance of my reflections that I fell back on the bricks of my childhood and the desire to make them live otherwise. The brick has everything graffiti: acid colors like those bombs that I like, an impressive size range to the image of the caps that will serve as brushes to my aerosol lines ... And an almost limitless creative capacity ... From my first attempts in 3 dimensions to my creations of Lego canvases, I try to give graffiti its playful side. Graffiti is a Child play ... "
LENZ © Jean-Baptiste GEFFROY